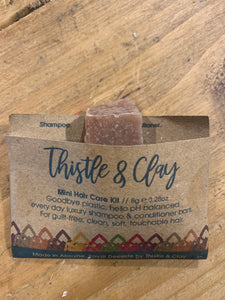 Compostable Recycled Kraft paper pouches filled with an 4g, 8g or 16g slice of our Shampoo Bar.

The perfect pocket sized deep conditioning zero waste shampoo solution.

To give you an idea of the number of washes you can expect from a sample, it is normal to use around 2g per wash.
All our shampoo bars are Vegan Friendly. Free from Palm Oil, SLS, SLES, silicones, parabens, phthalates, synthetic colours and fragrances.
All our packaging is compostable, biodegradable, or reusable, and completely plastic free.
The Rejuvenator, for dry, brittle or damaged hair - packed with rose petals, organic Sweet Orange, Rose Geranium, Ylang Ylang and Lavender.
The Tamer, for fine, flyaway hair - with Rosemary, Juniper, Ylang Ylang, Cypress and Cedarwood essential oils.
The Refresher, for normal to oily hair  - with Rosemary, Peppermint and Frankincense essential oils and organic Nettle leaf.
The Balancer, for normal to oily hair, with our balancing organic essential oil blend of Cedarwood, Bergamot, Vetiver, Vanilla & Lavender. 
The Saint, purifying, for normal to oily hair. With organic Peppermint, Cedarwood, Grapefruit, Rosemary, Thyme, Lavender and Sage essential oils and organic activated coconut charcoal.
The Feeder, nourishing, for dry to very dry hair. With organic eucalyptus, lemon, lavender, juniper, and chamomile. 
The Negotiator, support and nurture your hair, for sensitive scalps, with organic Tumeric, Juniper, Tea Tree, Peppermint, Lavender and Bergamot essential oils.
The Neutraliser, developed for blonde and grey hair, this purple shampoo bar neutralises brassy yellow tones and flattens out the hair follicles for shine. With organic lemon, lime, rosemary, thyme and sage.

The Balmoral, a gentle and sumptuous moisturising shampoo for all hair types. With organic Lavender, Rosemary, Lemon and Sweet Orange essential oils.
The Soother, a fresh and citrusy shampoo bar for all hair types. With organic Chamomile, Lemon and Benzoin essential oils and Isle of Skye Sea Salt for volume. 
The Spartan is our fragrance free bar, for those with extra sensitive skin or allergies to essential oils.
Directions: 

Lather between palms & apply to wet hair roots, working through to ends, or rub directly onto scalp. 

Please take care of your shampoo bar. They should be left in a dry place after use, the bathroom window ledge is perfect.
Ingredients:
Sodium Cocoyl Isethionate, Organic Cocoa butter, Organic Shea Butter, Palm Free Stearic Acid, Cocomidopropyl Betaine, Decyl Glucoside, Cetyl Alcohol, Behentrimonium Methosulfate, Cetyl Alcohol, Butylene Glycol, Dehydroacetic Acid, Benzyl Alcohol, Hydrolyzed Corn Protein, Hydrolyzed Wheat Protein, Hydrolyzed Soy Protein, Panthenol, Vitamin E, Sodium Lactate, Organic Essential Oil Blends.